K-Avenue Maharaj / Municipality 
COMMERCIAL BUILDING 3-Storey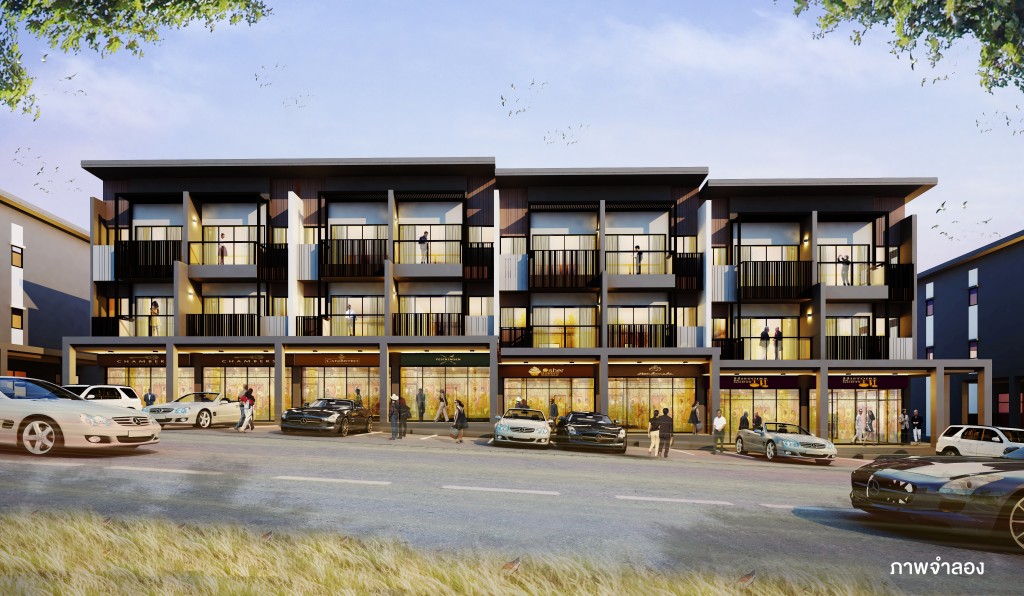 K-Avenue Maharaj / Municipality
Project information:
"The superior design of happiness" Commercial Buildings and Townhomes with great location adjoining to Maharaj Road, covering the area of happiness of over 36 rai in the heart of Krabi Town. The freedom of living, the comfort of traveling - The project has 2 main entrances (Maharaj Road and Sarungkhan Road).
Fulfill urban lifestyles with...
Smart Facility:
- Private Public Park in the center of the Town larger than one rai
- Private Clubhouse with fingerprint scanners
- Pool with salt systems with separated children's pool
- Private Fitness
- A multi-purpose recreational area
- Public parking spaces in front of the project to support upcoming business with capacity of more than 120 cars
Smart Functions:
- Ready for all supported access points (Ready for System installations such as air conditioning, television, telephone, water heater).
- Water tanks and Grease Trap Tanks are provided in every unit.
Smart Space:
- Commercial Buildings with private parking. *available for some units*
Smart Security:
- 24 hours security guard service
- 2 large arched entrances of the Projects with full security system
- Double Security system with CCTV throughout the Project area
Smart Design:
- Modern Design fulfilled with Modern Tropical Cultural Atmosphere
Project location:
Maharaj Road, Krabi Yai Sub-district, Muang District, Krabi Province, near Krabi Municipality, covering the area of happiness of over 36 rai, with various house styles of 2 story Townhome, 3 story Commercial Buildings and Commercial Buildings with 3 and a half floors, with 2 main entrances through Maharaj Road and Sarungkhan Road, surrounded by shopping malls such as Mother Super Center, Lotus Express, Krabi Hospital, Thetsaban 4 Panuraj Nursery School, Thetsaban 3 (Thadaeng) School, Thetsaban 4 Maharaj School and many tutorial schools.
Contact Us
Tel. 090-092-6666
Facebook: Cpn Property (ชวนพัฒนา พร็อพเพอร์ตี้)
Instagram: CPNPROPERTY
Line ID: @cpnproperty
Living with…. Aesthetic of lifestyle fulfilled with all functions and designs
to enhance social living quality at K – Avenue!